A new 12.5-tonne overhead crane and a pillar mounted slewing jib crane are the latest investments at Bunting's magnetic separator and metal detector manufacturing facility in Redditch, UK.  The new overhead crane replaces one originally installed in 1989, increasing the lift capacity and improving manufacturing productivity.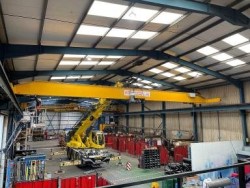 Bunting is one of the world's leading designers and manufacturers of magnetic separators, eddy current separators, metal detectors and electrostatic separators.  The Bunting European manufacturing facilities are in Redditch, just outside Birmingham, and Berkhamsted, both in the United Kingdom.
Local crane specialist AG Cranes Ltd is supplying and installing both the new single girder overhead travelling crane and pillar mounted slewing jib crane.  The new overhead crane spans the 18-metre width of the main Redditch manufacturing area with a capacity lift of 12.5-tonnes.  The hook path enables lifts up to 8-metres.
The single crane bridge beam is suitably rated to accept the lifting capacity across the whole of the required span.  The hoist is electrically powered, with top running end carriages with long travel motors.  The crane features a festoon power supply system and a long travel panel with low voltage crane control pendant.
The hoisting speeds of between 1 and 4 metres per minute, matched with increased cross travel and long travel speeds, meet the improved productivity targets.
The new overhead crane provides additional lift capacity following the growth in demand for larger equipment manufactured at Redditch such as Electro Overband Magnets and Eddy Current Metal Separation Modules.
The pillar mounted slewing jib crane (under-braced, beam design) has a 1-tonne lift capacity.  The 4-metre-high crane features an electric chain hoist.  The jib crane reduces the demand for larger overhead cranes when lifting lighter and smaller loads, and assists in improving manufacturing productivity.
"We [Bunting] continue to invest in our UK-based manufacturing operations," explained Alison Flower, Bunting's Redditch General Manager.  "The new cranes improve our manufacturing productivity, enabling us to meet the increasing demand for our equipment, especially for larger magnetic separators."
For further information, please contact us on press@buntingmagnetics.com or visit our website:
Bunting-Redditch – www.bunting-redditch.com